John K. H. Akers, Jr., Senior Partner
John Akers has practiced oil and gas law in the state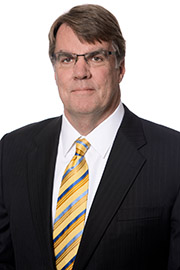 of Colorado for thirty years. He received his undergraduate degree from Gettysburg College in 1975 followed by his Juris Doctor from the University of Denver College of Law in 1978. He was then admitted to the Colorado Bar in March of 1979.
John started his oil and gas career as a landman and lobbyist for Exxon Minerals Company in Denver and moved through the land business to become a senior landman and finally the land manager for Weeks Energy Minerals Corporation. In 1985 John decided to establish his own practice as a federal unitization consultant and in 1988 expanded his practice to all areas of oil and gas law. In 1991 John was asked to join Hughes Clikeman and Associates as counsel for oil and gas, as well as personal injury. In 1994 he started his own practice with a specific focus on oil and gas law. He has had his own practice ever since.
John has extensive business and legal experience in all aspects of the oil and gas industry including, unitization, contracts, exploration, development, and extensive title experience.
---
Eric Thompson, Partner
Eric Thompson is licensed to practice law in Colorado,
Wyoming, Utah and New Mexico. He received his Juris Doctor degree from the University of Wyoming, College of Law. Prior to attending law school, Eric graduated from Regis University with a double-major in Business and Economics.
Eric began his legal career at Akers & Thompson LLC, formerly Akers & Associates LLC, in January of 2010, and was promoted to partner in July of 2015. During his time at the firm, Eric opened and maintained a branch office in Cheyenne, Wyoming. He has since relocated to Denver, Colorado, although much of his focus continues to surround exploration and production in the Powder River Basin.
His practice has focused entirely around oil and gas law, including mineral title examination on federal, state, and fee land, the acquisition and divestiture of leasehold and mineral properties, as well as service, joint operating, Communitization, and unitization agreements.
Eric is a member of the Rocky Mountain Mineral Law Foundation, Denver Association of Oil and Gas Title Lawyers, Denver Association of Petroleum Landmen and Wyoming Association of Petroleum Landmen.
---